MODEL
MATERIAL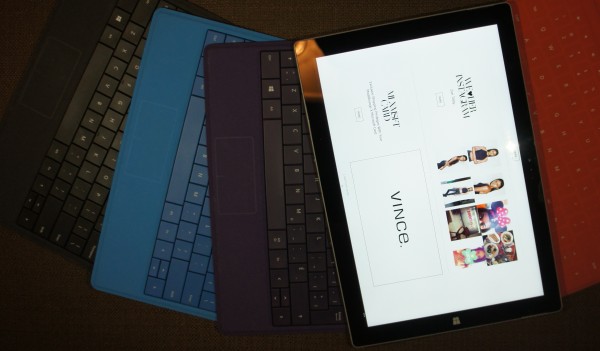 Surface 3 Model Review.
So, we're kind of like a self-proclaimed fashion innovator.  After all, we did create this super cool place called Modellounge X Microsoft (not too shabby, right?!?). We basically pride ourselves on being early adopters.  Our current obsession? The Surface 3.  It's a laptop and a tablet, all in one sleek, über chic package.  Needless to say, if there were a waitlist, we would have been on it two months ago.  Plus, a battery life (9 hours!!) that will last throughout our daily escapades riding the train from Brooklyn to Soho to Conde Nast in Time Square?  Now that's something we can get excited about.

We checked in with a few models at Modellounge X Microsoft who had this to say about the Surface 3:

"I love how light it is, I can easily throw it in my bag to carry around between casting and barely even notice it's there!"
"I mean c'mon it has a keyboard, and i can choose the color!"
"The pen is a pretty cool feature and I get to charge my phone with the USB ports"


Of the 20 models polled at the lounge – 14 of 20 said that it's hands down their favorite new tablet.

For more on the Surface 3 click HERE