MODEL
MOMENT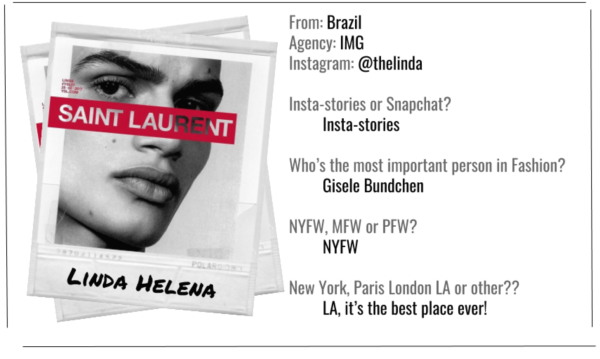 We sat down with 🇧🇷 Brazil's 'Saint Laurent' campaign star, Linda Helena, to talk about what's on her bucket list, plus more…
Name: Linda Helena
Hometown: Brazil
Agency: IMG
Instagram/Snapchat: @thelinda
Insta-stories or Snapchat?
Insta-stories
Who's the most important person in Fashion?
Gisele Bundchen, she's had a positive influence on me and anyone that followers her. Brazil!!!!
NYFW, MFW or PFW?
NYFW!
New York, Paris, London, LA or other?
LA, it's the best place ever!
Top models?
Gisele Bundchen, Naomi Campbell, Coco Rocha and Kate Moss.
Best model job experience?
My second ad campaign for YSL. Although it was work, it felt like vacation because we were shooting in LA!!
The most important thing you've learned since modeling?
I've learned that you do not lose anything that is not yours.
Have you ever had a job (other than modeling)?
I was a babysitter.  Ironically, the woman that I babysat for was the one to introduce me to modeling. It's very interesting how life can work in your favor.
Your three favorite bands?
Led Zeppelin, Metallica and The Doors.
What's one thing that you'd like to accomplish as a model?
I actually just shot my dream job, but it hasn't come out yet, so you'll have to wait and see!!! I'd also like to be on the cover of Vogue Paris and be featured in a Balmain ad campaign one day!
What's on your Bucket list?
Plant a tree, write a book, parachute in Dubai, and adopt a child. I'd also like create my own institution to rescue animals from the streets.