MODEL
MOMENT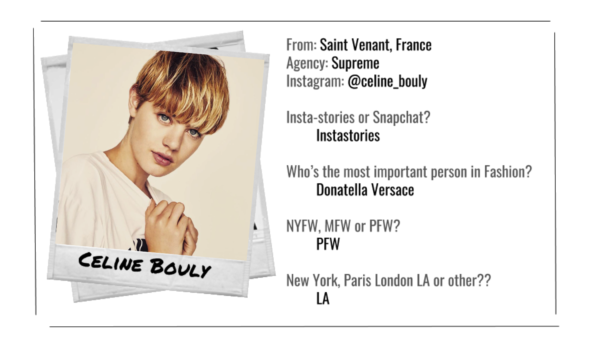 We sat down with in-demand 🇫🇷 Frenchy, Celine Bouly, the star of Alexander Wang's recent NYFW show to talk her favorite things, plus more…
Name: Celine Bouly
Hometown: Saint Venant, France
Agency: Supreme
Instagram/Snapchat: @celine_bouly
Instastories or Snapchat?
Instastories
Who's the most important person in Fashion?
Donatella Versace
NYFW, MFW or PFW?
PFW
New York, Paris, London, LA or other?
LA
Top models?
ME 🙂
Best model job experience?
French Vogue
Your three favorite brands?
Versace, Alexander Wang and Giambattista Valli
The most important thing you've learned since modeling?
English!
What's the best gift you've ever received?
Alexander Wang RTW
What's your favorite piece of technology that you own?
My MacBook
Your three favorite places to shop (anywhere in the world)?
Paris, Milan and NY
What's your favorite modeling job to date?
Chloe Ad Campaign
What's your favorite part of being a model?
Being able to meet so many different people
What do you do while you're waiting at the airport or at castings?
I like to listen to music!